Feminist Friday – Protests in the Spotlight
Each week the Fawcett team will be scouring the media and blogosphere to bring you our top essential feminist posts from the past 7 days – the good, the bad and the ugly…
We were so pleased to hear about Focus E15 Mothers' victory at Bow magistrates' court yesterday. If you don't know about these amazing young women, you need to get in the know! For some background here's Jasmin Stone, one of the young mothers leading the campaign, talking about why she has been occupying a boarded up council house in East London.
Russell Brand got involved with the E15 campaign this week, and made two short films about it for his Youtube channel, the Trews, which are definitely worth a watch. You can see them here and here.
The Guardian also filmed Jasmin and the rest of the group and their supporters outside the court yesterday, before they marched through the streets of East London back to the flat they're occupying: Watch it here.
At the opposite end of the spectrum, fashion designer Karl Lagerfeld staged mock feminist protests for his Chanel closing show at Paris fashion week. Some fashion commentators argued that it demonstrated the designer's feminist credentials, and the Huffington Post went as far as describing 'feminism as the new black.'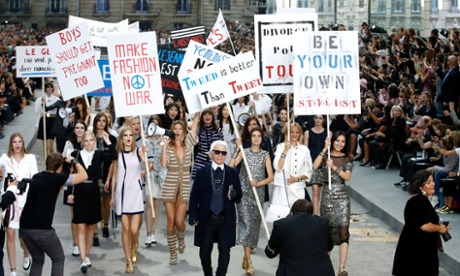 Unsurprisingly some long-standing feminists were a little less enamored with the show: Rhiannon Lucy Cosslett, co-founder of the Vagenda blog, felt it was an exercise in co-optation while over at the Huffington Post Sara McCorquodale described the staged rally as "a high fashion version of freshers wearing Che Guevara t-shirts."
What did you think of the Chanel show and how do you feel about feminism being in fashion? Have you visited the Focus E15 Mothers' Open House or followed their campaign? It's indisputable that momentum is building for feminism in all of its many guises – where do you think it's going to go next? Let us know your thoughts on these and more in the comment thread below.
Happy Feminist Friday!
Share this page: